Global Safety Management Consultants
Welcome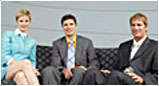 Global Safety Management Consultants was created with a singular goal; to help our clients protect their most valuable asset, their employees. GSMC has identified a direct relationship between a company's safety culture and employee behavior, morale, quality of work and efficiency.
The process begins with a comprehensive 360° cultural evaluation of your current culture (not just safety culture). The evaluation process is conducted in highly confidential, private 1:1 meetings with representatives from all levels in your organization. The evaluation results are then presented to executive management along with our recommendations for improvement. That's when the journey begins!
Click below to see how we can help you:
Safety

Attain World Class Safety Performance!
Morale

Improve Employee Morale & Productivity!
Reduce Costs

Lower Workers Compensation Rates!
Increase Profits

Increase Profitability and Profit Share!
Improve Safety Performance!
Create a World Class Safety Culture with our L2IFE Cultural Leadership Program!
Elevate Morale!
Improve Morale by Enabling, Engaging & Empowering Employees in the Safety Culture!
Reduce Costs!
Fewer Injuries & Incidents and Lower Workers Compensation Rates add to the Bottom Line!
Increase Profits!
World Class Safety Programs Improve Productivity and Reduce Absenteeism!
Understanding

Safety Culture

Culture is to a group as personality is to an individual.
Cultural behaviors are learned from the expectations, beliefs, values and perceptions of both employees and management.
Cultures, like humans, strive for stability, consistency and meaning.
Employees will follow the leadership of whom they believe has their best interest at heart.

Consulting

Services

Cultural Assessment and Development
World Class Safety Program Development
Management Leadership Workshops
Safety Leadership Workshops
Safety Project Management
Safety Professional Leadership Development
Regulatory Compliance & Training
Owners Representation
Program Audits
More: See Services Page